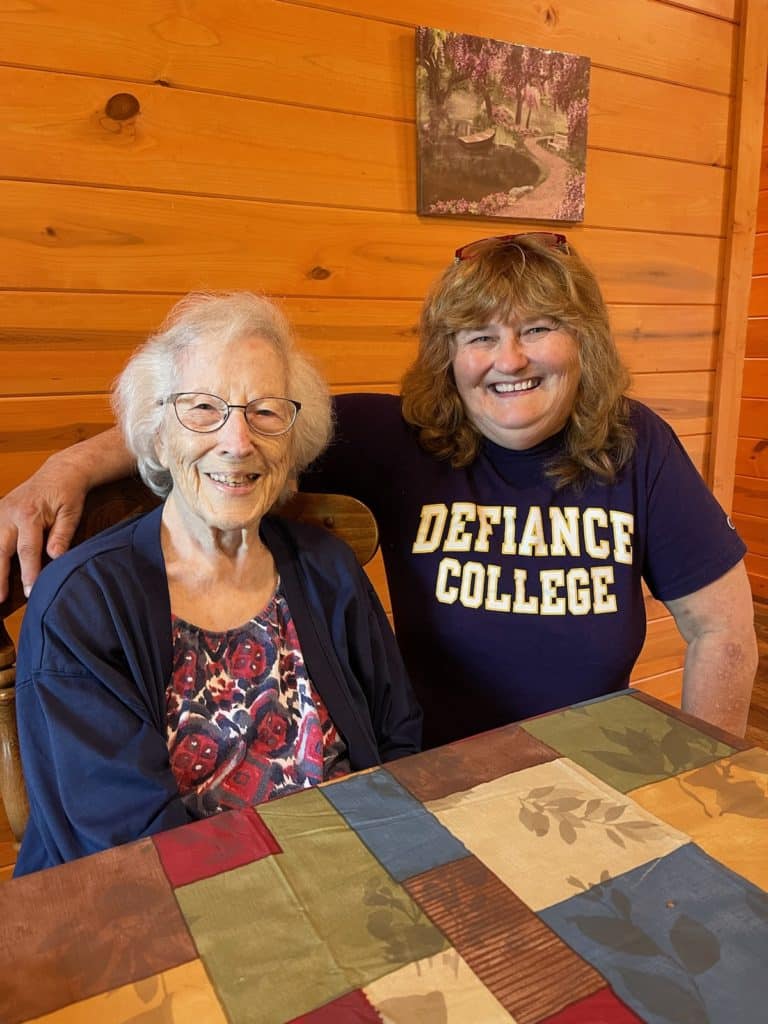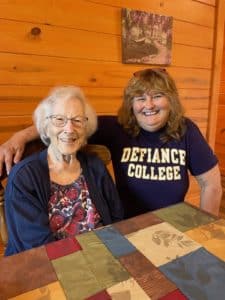 It is 6 am and I am frantically going through my T-shirt box hunting for my Defiance College alma mater shirt.  Success!  I don it on and proceed to the kitchen to make my guests some breakfast for this is a very special day!  It is the day I am going to take a walk down memory lane.
Backtrack to the afternoon before.  Having just returned from Sol Restaurant where they enjoyed a relaxing meal after being in the car for quite awhile, our guests sit themselves down in our dining room at Deer Ridge B&B and eat a decadent chocolate cake and key lime pie compliments of Sol.  
As they enjoy their dessert, I ask them where they "hail from" ('translation 'hometown').  They start spewing towns like Bryan, Stryker and Montpelier.  I said, "I know where those towns are.  Been there a lot. Graduated from Defiance College".  To which they said in unison, "No way, I graduated from Defiance College".  To which followed: graduation year, major, dorm room and the like.
Then I scanned my mind for persons I knew who had been on Defiance campus in the 1950s.  "Do you know ….. ."Yes, I knew them", the 93 year old woman replied.  "No way!" I said.  Granted, they were much younger then.  Then we ran through the list of 1984 graduates who lived in Bryan that her children went to school with.  And again, the 'wow's', can't believe it, and 'small world'.
We spent the evening talking about 'do you remember', 'did you ever', 'whatever happened to' and the like.  From buildings, to people, to gatherings memories flooding our psyche. Before you knew it, it was 10pm and there were still so many memories to recover.
In the morning I got out my computer and showed them some pictures from my college years and we shared some of the untold stories that we said would go to our graves.  And, we marveled that some 70+ years later, we would be sitting miles away from our college, meeting by happenstance, reminiscing about days gone by and wondering how all those memories and persons have evolved over time.
This is my prayer for all the guests that stay at Deer Ridge B&B, and visit Athens, Ohio and it's surrounding areas.  That, when you come here, you make memories that will last a lifetime AND beyond!  There was a 30+ year difference between myself and Eleanor when we were in college and another 39 years since I have graduated from Defiance College connecting myself to her adult children and their hometown classmates.  What a 'small world' and wow, am I old.
You do not need to have a destination or planned itinerary in mind to 'make memories'.  You just need to be open to the possibilities.  Now, I have new friends, new memories and treasured moments.  That is more valuable than gold.  May your life take you down 'memory lane' as we discover just how precious these moments in life can be and may new adventures be on your horizon leading you to 'paths unknown' …quoting Martin Luther who has led me on some unforgettable journeys.  And, I hope to see you soon, here at Deer Ridge B&B in Athens, Ohio.  Happy Traveling!